DWARFS LIKE GIANTS (NEW Album)
NEW ALBUM "DWARFS LIKE GIANTS"
(english version down below!)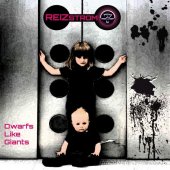 Hallo liebe Gemeinschaft,
nun ist doch über eine Jahr ins Land gegangen bevor wir nach "Zettel am Zeh" unser neues Album "Dwarf Like Giants" am 15. Oktober 2010 vorstellen können, und wir haben uns wirklich sehr ins Zeug gelegt, besser zu werden und nur die besten Songs zu präsentieren.
Diesmal haben wir sogar 4 Remixe von unseren guten Freunden NTRSN, TITANS, DEFENCE MECHANISM und LPF12 mit drauf, die das ganze perfekt abrunden. Es wird wieder für jeden etwas dabei sein, deswegen sei allen Fans und Freunden gesagt...hört rein, lasst euch überwältgen und kauft es! Snippets werden ab dem 1. Oktober auf unserer Homepage zu hören sein!
Das Album wird in einem Digipack angeboten, dass auch wieder nur auf 100 limitiert ist und über uns persönlich für 12 € (inkl. Porto und Verpackung) gibt oder bei Infrarot bestellt werden kann.
Es gibt eine große Premiere, es wird auch zum digitalen Download angeboten für 7,99 €, in diesem Zug bieten wir auch endlich unser altes Album "Zettel am Zeh" für 4,99 € zum Download an. Zu finden ist es dann auf den einschlägigen Downloadportalen (Amazon, iTunes etc.).
Und wir machen eine spezielle Werbeaktion, jeder der die CD über MySpace bei uns kauft, bekommt sofort noch zusätzlich einen Download-Link zu unserer "Mismatch EP", die wir erst im Dezember veröffentlichen werden!!!
Wir haben uns auch nicht lumpen lassen und anlässlich des Albums T-shirts anzubieten, die wahrscheinlich bei 15 € + Porto liegen werden, aber dazu gibt es demnächst mehr Informationen, auf jeden Fall sind sie auch auf unserem Konzert in Berlin käuflich zu erstehen. Wie Ihr seht, es passiert bald sehr viel und hoffentlich können wir euch auch wieder von unserer Musik überzeugen!
Mehr Infos folgen bald, aber merkt euch unbedingt den 15. Oktober vor, dann geht Reizstrom in die nächste Runde, und verbreitet die Kunde im Land, es gibt wieder Futter für das Herz, die Beine und den Verstand.
Wir freuen uns auf euch.
REIZSTROM
---
Dear circle of friends,
it's actually more than one year ago since our debut cd "Zettel am Zeh" was released, but now we want to announce you our new album "Dwarfs Like Giants" and we gave our best to get better and to present you only the best songs we ever made. And the 4 remixes from our friends TITANS, NTRSN, DEFENCE MECHANISM and LPF12 are a perfect bonus for the album. Let us overwhelm you and make you buy our cd.
It's a limited Digipack (only 100 parts) at a price of 14 € (incl. Postage) for outside Germany. You can purchase the cd directly from us (MySpace/Homepage) or from Infrarot. If you like you can buy the digital download at a price of 7,99 € on Amazon, iTunes and a lot of other stores. Our first record "Zettel am Zeh" as well at a price of 4,99 €.
We also make a special promotion. If you buy the cd on MySpace, you'll get a download-link to our free digital "Mismatch EP" AT ONCE, which will normally be released in Dezember!!!
We will also sell t-shirts at a price of 15 € (plus postage) in October. I hope there are a lot of fans who want one, but there are more informations to follow in the near future.
As you see, there are many things to happen. Stay tuned and we hope to see you at the concert in Berlin. It wil be an amazing event. AND DON'T FORGET, Reizstrom are starting round two with their new record on October 15th and tell it everybody you know.
See you
Reizstrom